A premium Shopify experience
Build your brand and increase conversions with one of Shopify's top rated themes
12
---
Years of experience building Shopify themes
Real people, real results
I have been loving this theme. The theme has various functionalities that are very vital and makes your website go from okay to great. While I was setting up my store, broadcast theme support team has been absolutely amazing and helpful. They were very quick with replies and provided detailed explanation every time which made me understand the theme better.
Bov Active
www.bovactive.com
I have been an e-commerce entrepreneur for about 10 years now and this template is the best template I have seen in all that time. We sell high-end luxury Italian accessories and the Broadcast template is perfect for our target market and product. What I am especially excited about is the versatility of this template. There are so many options and possibilities within the theme.
Schwartz & Von Halen
www.schwartz-vonhalen.com
Love Broadcast! It's a well-designed theme with tons of customizable features that allow for a really curated user experience. Pavel from the support team has been absolutely amazing, helping me sort out features and functionality I could not figure out on my own. 5 very well-deserved stars. Highly recommend all around!
Pratima Skincare
www.pratimaskincare.com
I have used this theme for several clients now and I have to say both the theme and the theme development team are top notch. I've used Broadcast for a bunch of clients and it's truly the fastest and cleanest user experience I've worked with yet. I most recently used it to build a website for a top entertainment podcast and it could not be more effective and impressive. Could not be better!
The Always Sunny Podcast
www.thealwayssunnypod.com
Beautiful theme with almost infinite flexibility. The support is FANTASTIC. I've had this theme for 3 years and many many updates and have had a ton of help from the support. They're fast and really willing to troubleshoot any issues that come up. The published guides are also quite thorough. Highly recommend Invisible Themes.
Llume Jewelry
www.llumejewelry.com
Really amazing theme! We are using it for two of our brands and the functionality is advanced. There were apps we were paying for monthly on old themes that offer the same functionality as Broadcast built-in. Elements and shop features are fantastic for CRO and the support has been very helpful.
Aetos Apparel
www.aetosapparel.com
Elevate Your Sales
Strategic upselling for higher revenue
Utilize Broadcast's built-in upselling features to strategically display related products on both the product and cart pages. Encourage customers to add more to their cart, increasing your average order value.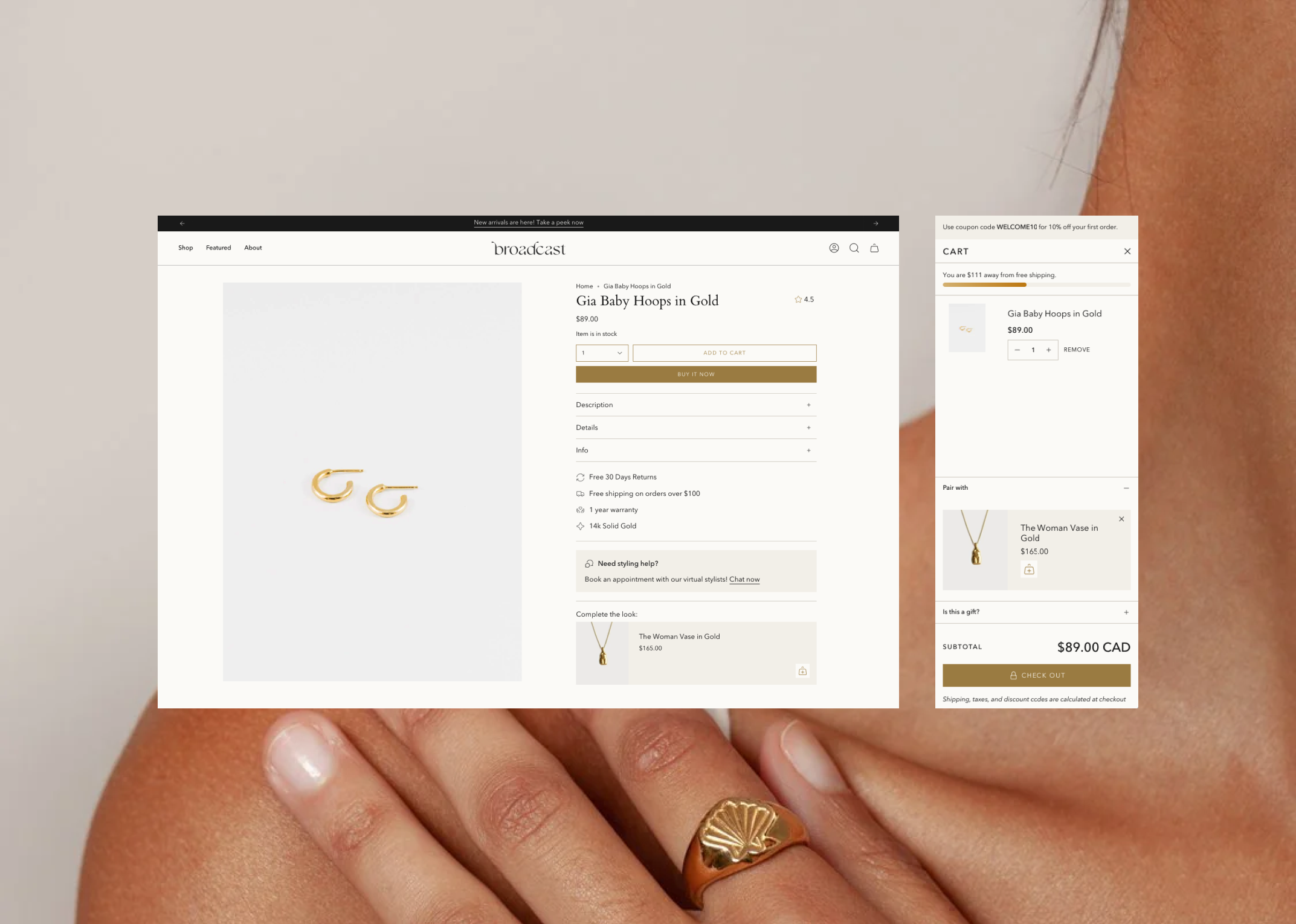 Product Discovery, Simplified
Cohesive shopping with 'Product siblings'
Make product discovery easier with the 'Siblings' feature. Link related products directly in the product view, providing a seamless shopping experience. Customers can easily explore related items, increasing the potential for bundled purchases.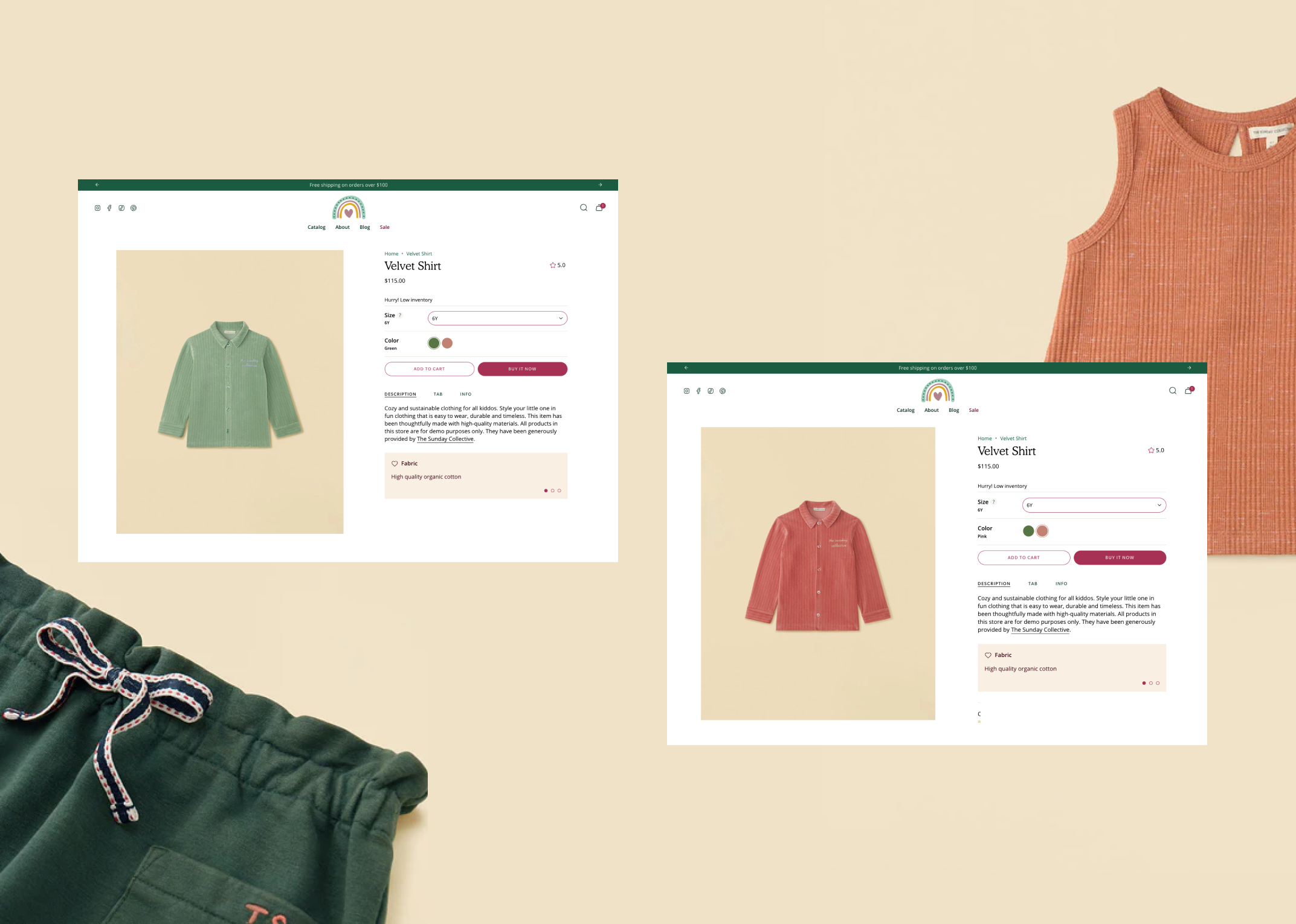 Designed for Success
High-quality, conversion-driven design
The Broadcast theme is meticulously crafted to blend aesthetics with functionality, ensuring not just a pretty storefront but one that converts. From layouts to typography, every element is designed to create an intuitive and memorable shopping experience.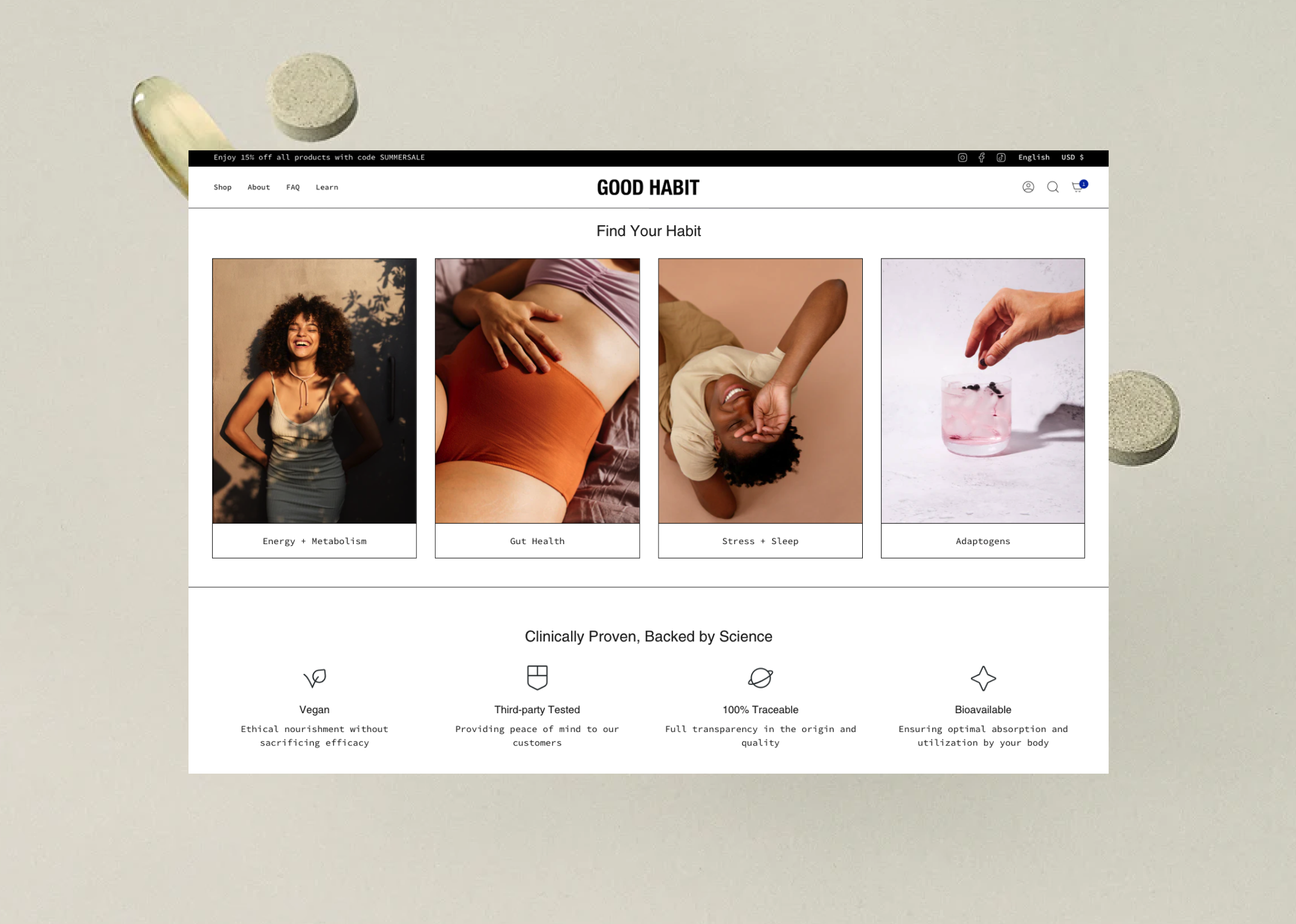 Unlock next-level eCommerce with Broadcast's feature suite
Mobile-first approach
Experience the future of online shopping. The Broadcast theme is designed with mobile users in mind, ensuring your store looks and performs great on all devices.
---
One-stop solution
Leave third-party apps behind. With Broadcast's plethora of built-in features, get all you need for a successful online store in one comprehensive package.
---
Build trust, build sales
Instill a sense of credibility and security with high-quality design elements that reinforce trust, turning visitors into confident buyers.
---
Tailor-made design
Craft a storefront as unique as your products. With customizable styles and quality design, Broadcast allows you to tell your brand's story effectively.
---
Performance that delivers
Don't let a slow site drag you down. With optimized speed and performance, Broadcast ensures that your store is fast and efficient, making shopping a pleasure.
---
Inclusive shopping experience
Level up your store's accessibility to ensure every visitor can navigate and make purchases effortlessly, regardless of ability.
---
Amplify your brand
More than just a theme, Broadcast is a tool to build your brand. Use compelling storytelling features to connect emotionally with your audience.
Conversion powerhouse
Equip your store with powerful conversion features like upselling, 'Quick buy,' and 'MegaNav' to turn browsing into buying and visitors into loyal customers.